This site is dedicated to the bestselling HarperCollins book, "Her Story: A Timeline of the Women Who Changed America" by Charlotte Waisman and Jill Tietjen. The book and its authors have received numerous accolades and positive reviews, as well as having been featured in the news on a great many occasions.
We invite you to review the site, and learn about the book, about the authors and see if the authors might suit your next speaking engagement.
---
Her Story: A Timeline of the Women Who Changed America from Her Story U.S. on Vimeo.
---
Fun Facts
When Katharine Meyer Graham took over The Washington Post in 1953, she said "I had very little idea of what I was supposed to be doing, so I set out to learn. What I essentially did was to put one foot in front of the other, shut my eyes, and step off the edge." For many years, she was the only female head of a Fortune 500 corporation.
---

The following book signings and speaking engagements are already scheduled:
October
October 1 – DAR Chapter and Current Events Club, Canandaigua, NY, 1 pm 
October 4 – Macedon Public Library, Macedon, NY, 2 pm
October 6 – UTC Building and Industrial Systems, Pittsford, NY, 10 am 
October 7 –  Gould Hotel, Women's Speaker Series, Seneca Falls, NY
October 22 – WE15 – Society of Women Engineers, Nashville, TN
November
November 12 – Society of Women Engineers, Clarkson University, Potsdam, NY 
Please contact Misty Ramsey, Events and Speaking Manager to book a speaker for your next company event, workshop, conference, seminar, book club by email: misty@herstoryatimeline.com.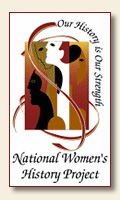 The authors created a content module around Her Story: A Timeline of the Women Who Changed America for the National Women's History Project, includes CD-ROM, 6-page information unit and the book.
Click here to learn more.