This site is dedicated to the bestselling HarperCollins book, "Her Story: A Timeline of the Women Who Changed America" by Charlotte Waisman and Jill Tietjen. The book and its authors have received numerous accolades and positive reviews, as well as having been featured in the news on a great many occasions.
We invite you to review the site, and learn about the book, about the authors and see if the authors might suit your next speaking engagement.
---
Her Story: A Timeline of the Women Who Changed America from Her Story U.S. on Vimeo.
---
Fun Facts
Esther Morris lobbied the legislature of Wyoming to enfranchise women and in 1869, women gained the right to vote.  In recognition of her work on behalf of women, Esther Morris was appointed the first female justice of the peace in South Pass City, becoming the first woman so appointed in the entire nation. 
---

The following book signings and speaking engagements are already scheduled:
2015
February
February 5 – University Library Association, Denver University , Denver, CO 
February 14 – United Methodist Church, United Methodist Women's Valentine's Day Tea, 11:30 a.m.
February 17 - Society for Mining, Metallurgy and Exploration, Denver, CO 
February 20 - Marlborough School, Los Angeles, CA 
February 27 - Ball Aerospace AAERG
March 
March 5 – Georgia Women of Achievement Induction Ceremony, Macon, GA
March 6 – Georgia Power, Diversity and Inclusion, Macon, GA
March 8 – CWEF,  International Women's Day, Denver, CO 
March 26 - IAAP, Louisville, CO
March 31 - Clearinghouse of Women's Issues, Washington, DC
April
April 8 – Foothills Genealogy Society, Golden, CO, 1:00 pm  
April 23 – CCIRA – Talent Bank, Fort Collins, CO
---
Please contact Misty Ramsey, Events and Speaking Manager to book a speaker for your next company event, workshop, conference, seminar, book club by email: misty@herstoryatimeline.com.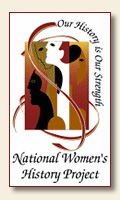 The authors created a content module around Her Story: A Timeline of the Women Who Changed America for the National Women's History Project, includes CD-ROM, 6-page information unit and the book.
Click here to learn more.